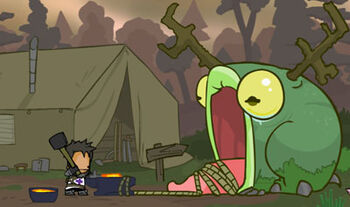 A frog with square antler; its tongue tied to the Blacksmith's anvil. How it got there, no one knows. All we know is that weapons are stored inside its spacious throat.
Weapons Stored in the Weapons Frog (Original Version) Edit
Weapons are stored within the Weapons Frog in the following groups:
Weapons in the Weapons Frog have been reorganized based on level from lowest to highest:
Group 10
Edit
Group 11
Edit
The Animal Orb Frogglet also resembles the Weapons Frog.
The Weapons Frog is seen with tears in its eyes, suggesting that it is slightly in pain from the rope tied around it's tongue.
It looks small on the outside, but is huge inside, this is likely to save space and leave the level small.
It is not known what music track plays in the Weapons Frog.
Giant Frogglet's heart can be seen near Groups 1 and 2.
Before Title Update 2 came for the XBLA version of Castle Crashers, there were only 9 groups.
See also
Edit