Arcane: League of Legends - The Loop
Play Sound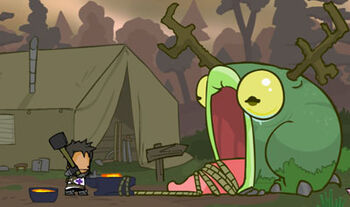 The Weapons Frog is a frog with square antlers; its tongue tied to the Blacksmith's anvil. How it got there, no one knows. All that we know of it so far is that weapons are stored inside its spacious throat.
Weapons Stored in the Weapons Frog (Xbox One/PC)
Weapons are stored within the Weapons Frog in the following groups:
Remastered=
Group 1
Group 2
Group 3
Group 4
Group 5
Group 6
Group 7
Group 8
Group 9
Group 10
Group 11
Gallery
Soundtrack
| | |
| --- | --- |
| Weapons Frog (provisional) | |
Trivia
The Animal Orb Frogglet also resembles the Weapons Frog.
The Weapons Frog is seen with tears in its eyes, suggesting that it is slightly in pain from the rope tied around it's tongue.
It looks small on the outside, but is huge inside, this is likely to save space and leave the level small.
The Weapons Frog's giant heart can be seen near Groups 1 and 2.
Before Title Update 2 came for the XBLA version of Castle Crashers, there were only 9 groups.
In Final Battle, the Weapons Frog is finally freed from being tied up, but only in this level.
In BattleBlock Theater, it is revealed that this species is called the amphibalopes, as shown in the steam inventory description for the Amphibalope prisoner "Amphibalopes were once bred for size and storage capacity, and they were the leading walk-in animal of their day. The species took a big hit in popularity once someone invented a closet that smelled less terrible and was less likely to die."
See also