Piggy is one of the 29 Animal Orbs a player can obtain in the game Castle Crashers.
Xbox 360 / PS3 / PC / Xbox One: Piggy can be bought from the Swamp Village Store for 290 gold, being one of the few store bought pets in the game.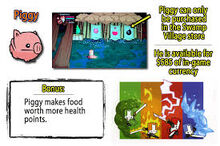 Primary Ability
"Food Boost
Piggy multiplies the amount of health you receive when eating fruit to 2x (20% rather than 10%), and turkey legs or hamburgers to 1.5x (75% rather than 50%). This is extremely useful for bosses which drop food, especially Necromancer. This ability does not apply to the popcorn created by the Corn Boss. Also, eating food with Piggy changes the sound to a pig-like snort.
While he's at the apex of his potential while fighting Necromancer, he's still very useful anywhere else, just not as much.
Piggy is an S Rank pet (S+).
Piggy is arguably the best pet to assist the player whilst fighting the Necromancer.
The slots on its nose and the fat lines on its back are meant to reference the fact he is like a piggy bank.
Piggy ability does not apply to Popcorn.